Gain
"Gain" – Microphone Preamplifier
GAIN ist ein Mikrofonvorverstärker mit großartigem Design und hervorragendem Klang. Er hat 2 Kanäle und auf jedem von ihnen können Sie die Verstärkung (bis zu 60 dB) und die Dämpfung (0 - 63 dB) steuern. Jeder Wert kann über dem Knopf auf einer 2-stelligen 7-Segment-Anzeige abgelesen werden. Zusätzlich bieten 4 Tasten pro Kanal: 20 dB Dämpfung, Phantomspeisung 48 V, Phasenumkehr und Auswahl zwischen Mikrofon oder Instrument Eingang. Er verfügt über einen benutzerdefinierten Transformator und einen benutzerdefinierten Operationsverstärker für jeden Kanal sowie einen allgemeinen Ringkerntransformator für die Stromversorgung. Das Design ist spiegelnd und gibt Ihnen ein sofortiges Gefühl mit dem Mikrofonvorverstärker und seinen 2 Kanälen.
Wie unsere Summierverstärker verfügt GAIN über ein digitales Plug-In (VST, AAX), mit dem Sie den Mikrofonvorverstärker in Ihre DAW holen und Store- so wie Recall-Einstellungen zur Verfügung stellt. Unten eine Ansicht des Plug-Ins in Ihrer DAW.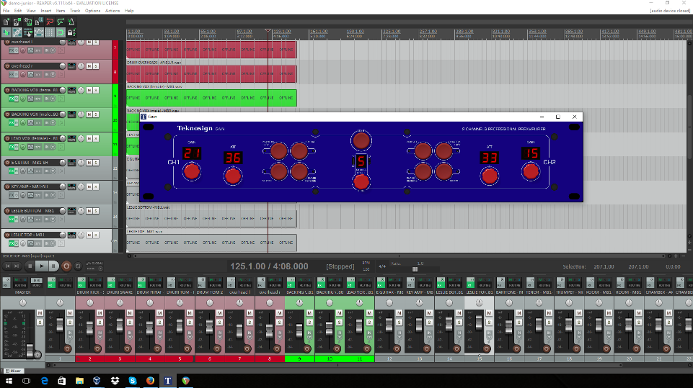 Darüber hinaus ist GAIN mit einer Flash-Speicherkarte ausgestattet, sodass Sie bis zu 8 Settings auf dem Gerät selbst speichern können.
KEY FEATURES
Dual channel
Hybrid class-A custom op-amp amplifier
High performance electronic balanced output
Custom input transformer
Supplementary passive split output
Electronic servo circuit
Mic / instrument input selector
Digitally controlled parameters via relays: Gain, Post Gain Attenuation, Reverse Phase, Mic / Instrument selection, 20 dB Pad attenuator, +48 V dc Phantom Power
Fully controllable by Plug-in (VST/AAX) in your DAW or via stand alone app
10 steps of Gain up to 57 dB
64 steps of Attenuation up to -63 dB in steps of 1 dB
Stereo Link
Full Linear Power Supply
Separate box containing Toroidal Transformer, EMI Filter and shielded cable
10 steps high fast response VU meter with 3 dB steps
Mirror design
USB control Port
Flash Memory onboard to store up 8 setup memories
SPECIFICATIONS
Minimum Gain: 15 dB
Maximum Gain: 57 dB
Attenuation Control Post Gain From 0 to 63 dB
Frequency Response: +0 / -3 dB 3 Hz 300 kHz
Intermodulation Distortion: 50 Hz & 10 kHz < .0009%
Phantom Powering +48 V dc
External Power Supply: 240 V ac, 50/60 Hz
Dimensions: 2 U 19″ rack (484mmx89mmx265mm)
Weight: 5.8 Kg.